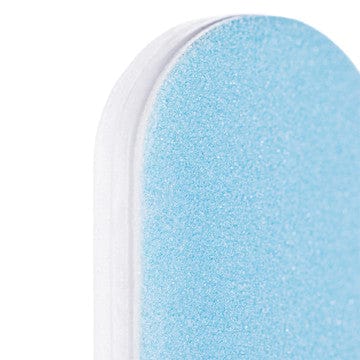 $13.50
$39.99
4 Way Nail File and Buffer, 7 Inches Long, All Purpose, Best For Natural Nails, Save Time and Money, 4 Fingernail Files in 1, Professional Care Manicure Tools
SAVE TIME, MONEY, AND SPACE; Save money by no having to buy 4 different fingernail files to get the right grits you need, 1 can do the job of 4; Save time by having the convenience of not needing to search the house for 4 nail files when its time for a manicure; Save space by getting 1 nail file instead of 4
PERFECT SHAPE AND SHINE EACH TIME; A lot of thought has been put into designing the perfect nail file for your natural nails; Each grit has been carefully selected to get you the best finish possible with just 1 nail file; Use the file from step 1 to 4 each time you file the top or tips of your nail for a beautiful shape and shine each time; Step 1 is a beautiful blue 240 grit, Step 2 is a pretty pink 320 grit, Step 3 is a  wonderful white 1000 grit and Step 4 is a gorgeous grey 3000 grit
WHAT YOU GET WHEN YOU BUY; If you purchase from an authentic source, you will get 12 nail files that are 7 inches long and 3/4 of an inch wide, each 1 will have 4 grits on it, just like it describes above, the colors of the grits will be just like the picture displays and the description reads, blue, pink, grey and white
SATISFACTION GUARANTEE; The manufacturer Iridesi has a 100% satisfaction guarantee. Contact the manufacturer for a hassle free resolution should anything not meet your expectations
Story Time:
You are getting ready for a night out after a long hard day. You can almost imagine already being at your favorite place with your favorite people laughing and enjoying one anothers company. As reality comes back into focus you realize the only thing keeping you from your dream is getting ready for it. You rush to look presentable but at the last minute notice your fingernails need to be filed. You reach for the 4 way file from Iridesi and are able to quickly shape and shine your nails just in time. The night was a success. You could focus on enjoying yourself and not worrying about the state of your nails.
Grit Matters:
The grits we picked for this fingernail file are perfect for natural nails. Pro Tip:When talking about grit the higher the number the finer it is.
Blue 240 is perfect to shape the nail after it has been cut. It is a finer grit and not intended to remove large amounts of material.
Pink 320, a grit intened to remove any lines created by grit 240. It makes for a smoother finish. Pro Tip: Buff in one direction. Start from the cuticle and go to the tip. This will create a smoother finish.
Grey 1000 is used to remove any lines created by the 320 grit. Buff your nail in one direction until no abrasion lines are visible. You may need to wipe away the dust of your nail to check periodically.
White 3000 is where the magic happens. This is the final step and when you are finished will provide a nice natural shine to your nail.
100% Satisfaction Guarantee - Backed by a 30 day manufacture guarantee should anything not meet your expectations.
Click Add To Cart at the top and experience it for yourself.